Our Team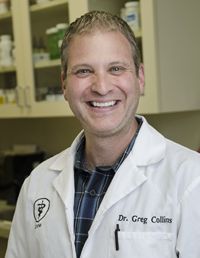 Greg Collins
Veterinarian/Practice Owner
Greg opened Louisville Family Animal Hospital in October 1997, with the vision of providing high quality veterinary care in an environment which recognizes our pets as members of the family and nurtures the special relationship between client, pet and veterinary practitioner. The hospital was an immediate success, and expanded in 2003 to its present facility, adding over 8000 new 'family' members.
Greg enjoys spending time hiking, reading, playing in poker tournaments, and collecting vintage comic books. His son, Logan, is an avid microbiology student and aspires to a career in research with an emphasis on the development of new antibiotics. Greg shares his home with Napa Superfreak, a Dachshund . His pet family also includes girlfriend Suzette's Golden Retriever, Aidan, and cats Clarice and Persephone.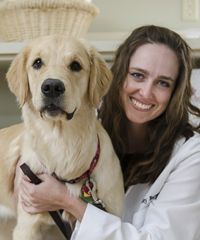 Ashley Barnes, DVM
Associate Veterinarian
Ashley began her veterinary career right here at Louisville Family Animal Hospital, where she worked as a veterinary assistant and receptionist throughout college. Ashley left LFAH to pursue studies at Colorado State University, receiving her Doctor of Veterinary Medicine degree in 2009 and graduating first in her class! Following graduation from CSU, Ashley went on to complete a year-long internship at Wheat Ridge Animal Hospital before returning to Louisville Family. While enjoying all aspects of veterinary medicine, Ashley's special interests include ultrasound, dentistry and pain management.
Ashley shares her home with her cat, Frankie, and Golden Retriever, Maddie, the star of Ashley's weekly Facebook column "Maddie and Me". In her spare time, Ashley enjoys hiking, biking, softball, and karate.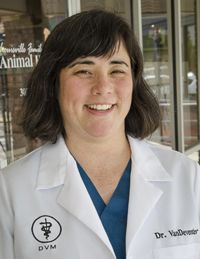 Ami VanDeventer
Associate Veterinarian
Ami has been with Louisville Family Animal Hospital since 2003. Ami is originally from Virginia and graduated from Virginia Tech with a Bachelors degree in Biochemistry and Nutrition. She received her Doctor of Veterinary Medicine degree from the Virginia-Maryland Regional College of Veterinary Medicine in 1995. Following graduation, Ami practiced in Virginia for 2 years before moving to Colorado, where she spent six years as the Boulder Emergency Pet Clinic practicing emergency and critical care medicine, as well as managing the practice. Since returning to a primary care practice, her special areas of interest include senior pet care and the prevention and treatment of dental and periodontal disease.
Ami and her husband Matt share their home with daughters Morgan and Erika, Emma the dog, and approximately 100 guppies! Ami and Matt enjoy spending time outdoors backpacking, rock climbing, skiing and exploring the world with Morgan and Erika. Ami's personal hobbies include beekeeping, making pottery, and gardening.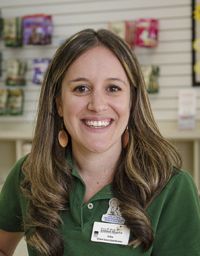 Erika Kleronomos
Client Care Coordinator
Erika was born and raised in Chicago, IL, and attended the University of South Florida, earning a Bachelors degree in Biology with a concentration in Marine Studies. Shortly after finding a stray kitten, she not only found a veterinarian, but a job as a veterinary receptionist for a multi-hospital practice in the Tampa area. The job was a natural fit, as Erika is very outgoing, loves people and animals.
Erika moved to Colorado in February 2012 with her loving husband, and their cats Mugsy and Zeppelin – and they all love living near the beautiful mountains. In her free time, Erika loves to read, write, hike … and eat chocolate!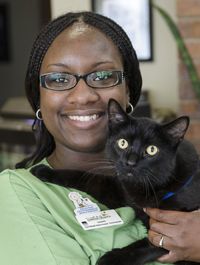 Jasmin Slaybaugh
Certified Veterinary Technician
Jasmin received her degree in Veterinary Technology from the Community College of Denver in 2006 and joined the LFAH family in September of 2006 after earning her Certified Veterinary Technician credentials.
Jasmin is originally from California, but has lived in Colorado for over 10 years. Jasmin and her husband share their home with 2 cats, Esmeralda and Snow, and a Golden Retriever by the name of Lucy. In her free time, Jasmin enjoys dancing, reading, hiking and loving on animals.
Annette Moore-Hertz
Certified Veterinary Technician
Annette began her career in veterinary medicine after graduating from the PIMA Medical Institute program in Veterinary Assisting. After several years in General and emergency practice, Annette returned to school, earning a degree in Veterinary Technology from the Community College of Denver and her Certified Veterinary Technician credentials.
Annette's family includes 3 children, 4 grandchildren, 3 dogs, 3 cats … and 2 tanks of fish. Annette is blessed with a patient and supportive husband who is also her 'wingman' on motorcycle rides. Annette and her family enjoy camping and fishing in their spare time.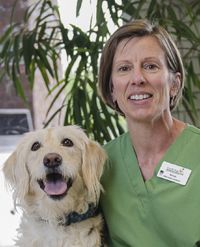 Rhonda Maidhof
Veterinary Assistant
Rhonda was born and raised on a farm in Iowa – sparking an interest in animals and pursuit of a degree in Veterinary Science Technology. After college, she moved to St. Louis where she met her husband. They are the proud parents of 2 sons and have called Colorado home since 1996.
In her free time, Rhonda volunteers as a Master Gardener through the Colorado State University Extension Office and enjoys running, hiking and camping with her family and canine sidekick, Pepper, whom she describes as a purebred 'Oopsdoodle'.